Sküt (Scott Lewallen) @inkedbyskut is a Los Angeles native and a multidisciplinary artist, designer, and entrepreneur. He is renowned as a muralist and local creator in West Hollywood and is a member of the Artlounge Collective gallery.
Sküt studied at the Annenberg School for Communication, University of Southern California, and has built a successful career by blending art with technology. His previous exhibits include Aquarium of the Pacific, Mondrian Los Angeles, The Artist Tree, TAG Gallery, The Other Art Fair, and V Wine Room Weho.
Sküt is widely recognized as the original designer and Co-Founder of Grindr, the world's largest social network for gay, bi, trans, and queer individuals, and as an advocate for LGBTQ and environmental causes. Currently, you can enjoy Sküt's latest artworks at Artlounge Collective and The Artist Tree, as part of the Pride Month celebrations.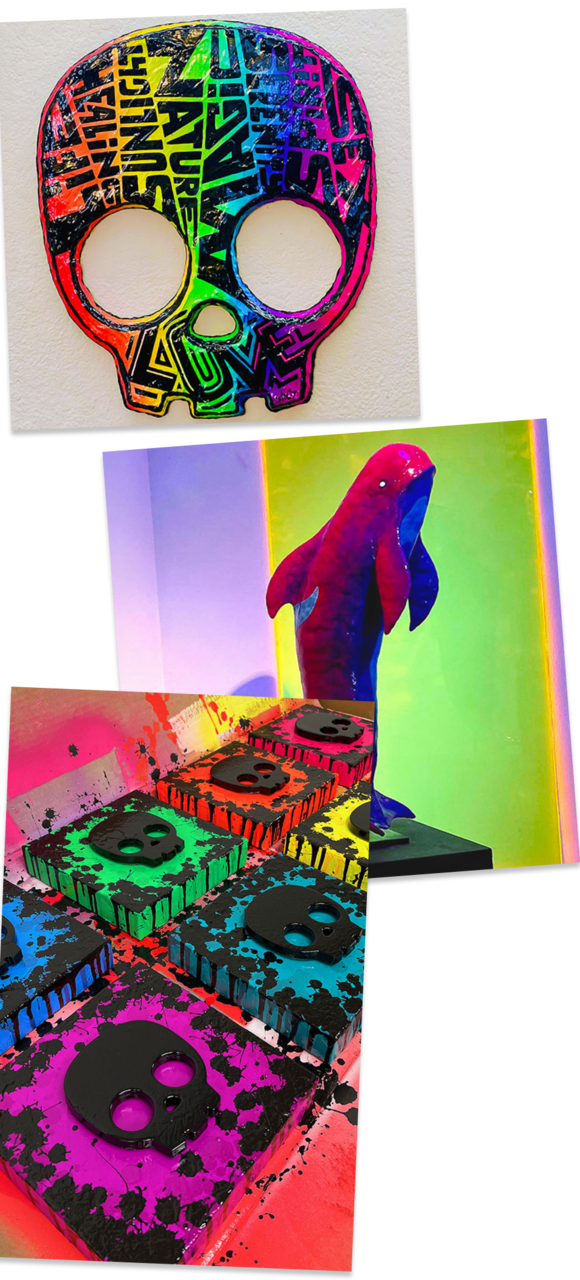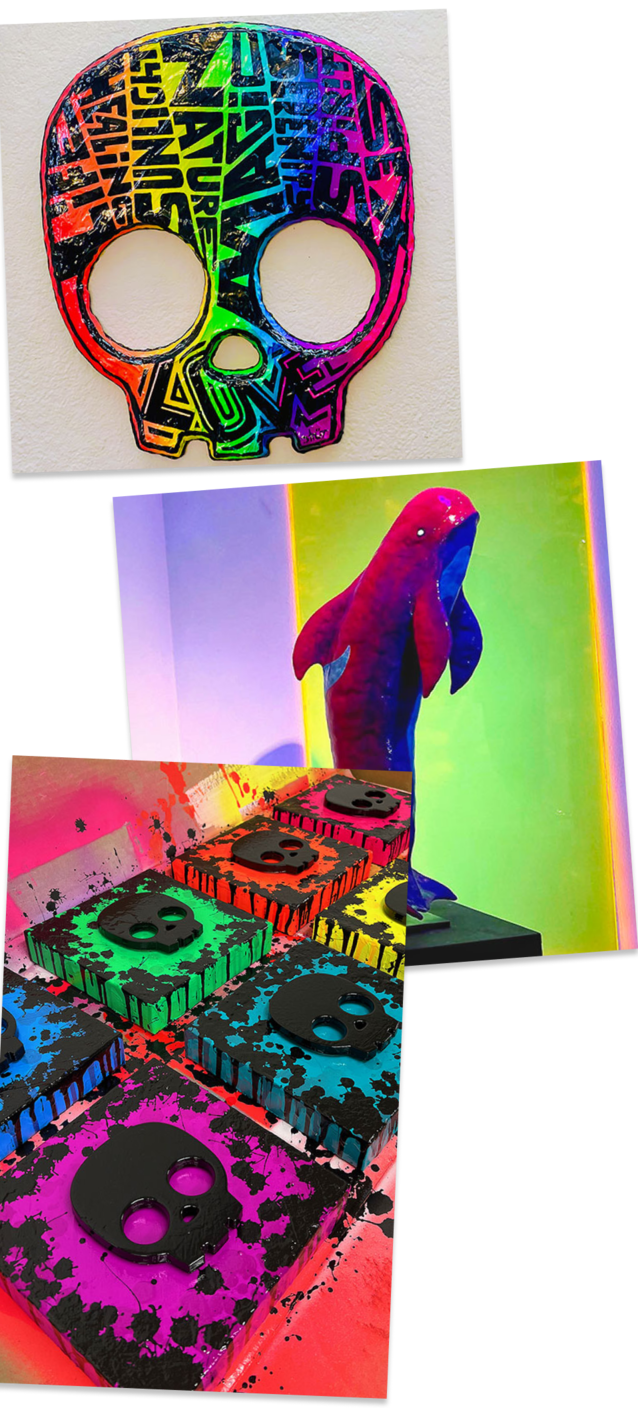 What type or artist are you?
I'm an experimental artist who leans in on digital iteration. I've done wall art, sculpture, immersive installations, and I love experimenting with projection and light mapping. My foundation is in graphic design, so I play with various styles to bring my creations to life. I love layering heaving acrylic onto sculptures and dimensional wall paintings, and then making those pieces come to life with texture, reflection, and light.
What or who, inspires you and your art the most?
I get massive inspiration from nature. I used to draw ocean creatures with my dad when I was a kid (whales, dolphins, sharks) and that stuck with me. My favorite modern artist is Wyland, his style is so accessible and relevant, and I've had the honor to meet him a handful of times. I also love classic pop artists like Keith Haring and Gilbert Baker (the late creator of the original gay pride rainbow flag). Immersive installations and experiences are my favorite creative recharge. I'm a big fan of everything Meow Wolf is doing, and Omega Mart at Area 15 in Las Vegas is one of my favorite art destinations.
What do you hope people feel or think about when enjoying your art?
I'm less focused on WHAT people feel from my art… so long as they DO feel something, and linger on that experience. Emotional response is a fourth dimension to your journey of enjoying art, and remembering HOW you feel is important. I use bright, solid, graphic concepts and colors, so I hear a lot of "in-your-face optimism" from people interacting with my art. I love making people smile and feel nostalgic. My #Skullpop series and heart art evoke that type of response.
What do you like best about Nova Colors?
A fellow artist recommended Nova to me a few years ago. I haven't looked back. The broad selection of colors and pigments gives me endless options for creating, and the quality is incomparable. I love Nova's wide rimmed containers, they make it so easy to paint while minimizing the mess, and perfect for storing and organizing studio supplies. And I love supporting local businesses (thanks Nova!).
Is there anything else you'd like to share?
The greatest gift you can give children is the power of art. Encourage the little ones to make a mess, and nurture their imagination. I'm so grateful my parents supported me in a loving environment.
Art is essential to humanity. Whether you're an artist, or an art lover, or just beginning to dabble in the space… support your local arts communities. Go to galleries, museums, and festivals. Take lots of pictures. Follow artists on social media, comment on artwork you enjoy, and share what inspires you with friends.