Hey, my name is Rachel (she/they) and I'm a queer maker, DIYer, artist, and hacker living right here in sunny Los Angeles, CA.
I often describe myself as an okayist carpenter, excellent painter, skilled puppet maker, resentful seamstress, reasonable traditional sculptor, general CNC wizard, dangerous electrical engineer, retired software developer, exhausted project manager, beginner welder, fair molding and casting, and other various miscellaneous.
In 2009, after 10+ years as a software developer, I took a leap of faith and quit my video-game programming gig to go back to school for fine art and stop-motion animation. Rather than returning to college I sought out classes around LA and created my own curriculum between local schools and workshops. Through pragmatism, hard work, and my "don't be a jerk" motto, I realized my dreams and found my way into full-time work as a puppet fabricator in the stop-motion industry. Once inside, I've continued to build my portfolio of skills and work in various departments, including painting, puppet fabrication, rapid prototyping (CNC machines and 3D printing), set dressing, and prop fabrication (to name a few).
I am grateful for all of the opportunities I have been given and the incredible artists that I work with across many imaginative studios here in Los Angeles.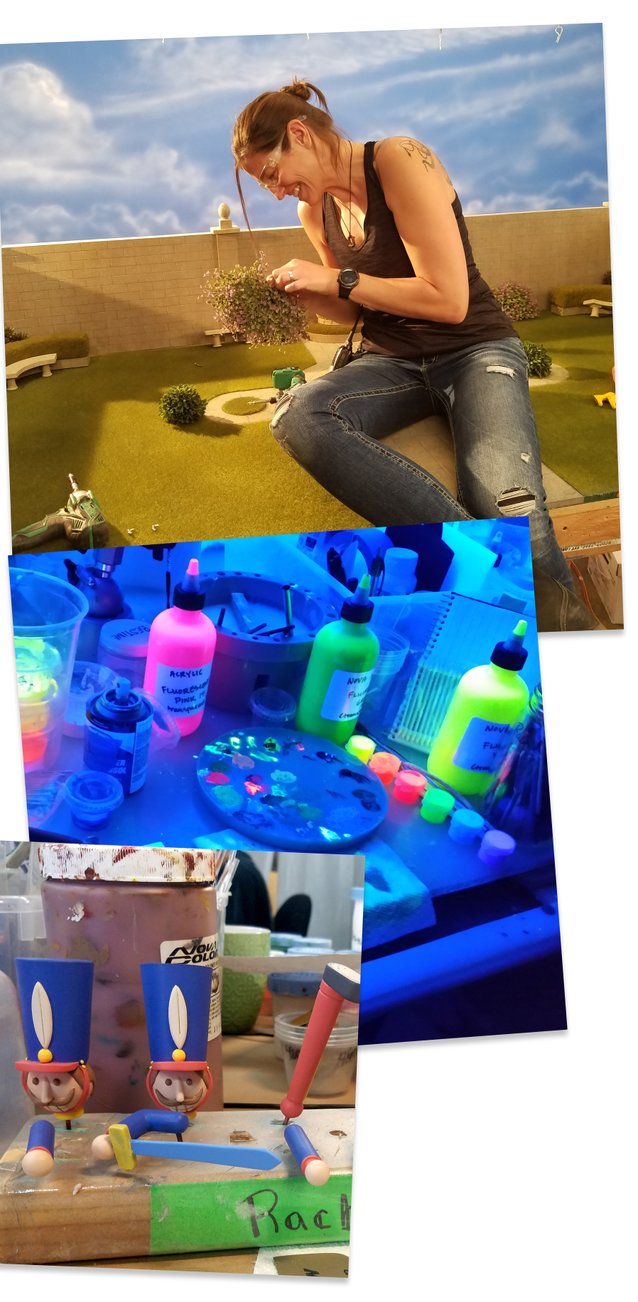 What type or artist are you?
My name is Rachel (she/they) and I am a lead painter and puppet fabricator with 10+ years of professional experience in the stop-motion animation industry. My focus is on traditional painting, sculpting, 3D modeling, and rapid prototyping, with end-to-end technical skills to bring concept art into tangible reality. My work is kinetic, highly detailed, tactile, mechanical, organic, colorful, pop culture, surreal, interactive, cozy, childlike, goofy, and playful.
What or who, inspires you and your art the most?
Stop-motion is a lifelong obsession and "special interest" for me, and I am deeply inspired by my peers and cohorts in the industry. It is a continuing honor to work alongside such incredible artists who challenge, inspire, and surprise me at every turn. I wish I could narrow it down, but the list is ever-growing! I get lost for HOURS every day just pursuing the hashtag #stopmotionanimation on social media.
What do you hope people feel or think about when enjoying your art?
Gosh, I've been so fortunate over the years to work on shows that align with my values -- a sense of childlike wonder, curiosity, appreciation of nature, humor, playfulness, self-reflection, and personal growth -- I hope those values shine through the work that I produce and that each film finds its way a resonant audience.
What do you like best about Nova Colors?
OHMYGOSH so happy to fan-girl about this! Honestly, in my 10+ years in production, I've had the experience of working with almost every acrylic on the market (in the US), and Nova paints are by far my favorite. I JUMPED at this opportunity to sing their praises and share my experience here because I've been a staunch supporter from day one of trying them out. The colors are SO vibrant, and the paint itself is highly pigmented in a smooth and quality medium. This means a little goes a long way, and that is SUPER IMPORTANT in my highly detailed** work. They layer beautifully in washes and can be thinned to flow easily through an airbrush without compromising coverage, where other paints tend to fall apart.
** I always have a pint of the Nova Acrylic Retarder (299) on hand, which is a DREAM for detail work
Is there anything else you'd like to share?
I've actually had the honor of visiting the Nova store in LA in person many times back when I was living locally in Mid City. Everyone I've met there was warm and welcoming and just so freaking helpful!